Human Principle
Performative Installation
3 hours
04-02-2023, exhibition until 11-02-2023
Art-must-be-beautiful Event,
Weltkunstzimmer,
Düsseldorf, Germany
Human Principle is a performative installation representing the "Allegory of the long spoons" where situations of envy and greed are presented, in heaven and hell. This project was presented at invitation of Elisabeth Heil and Wilko Austermann and curated by them for Art must be Beautiful – position in performance art, at Weltkunstzimmer.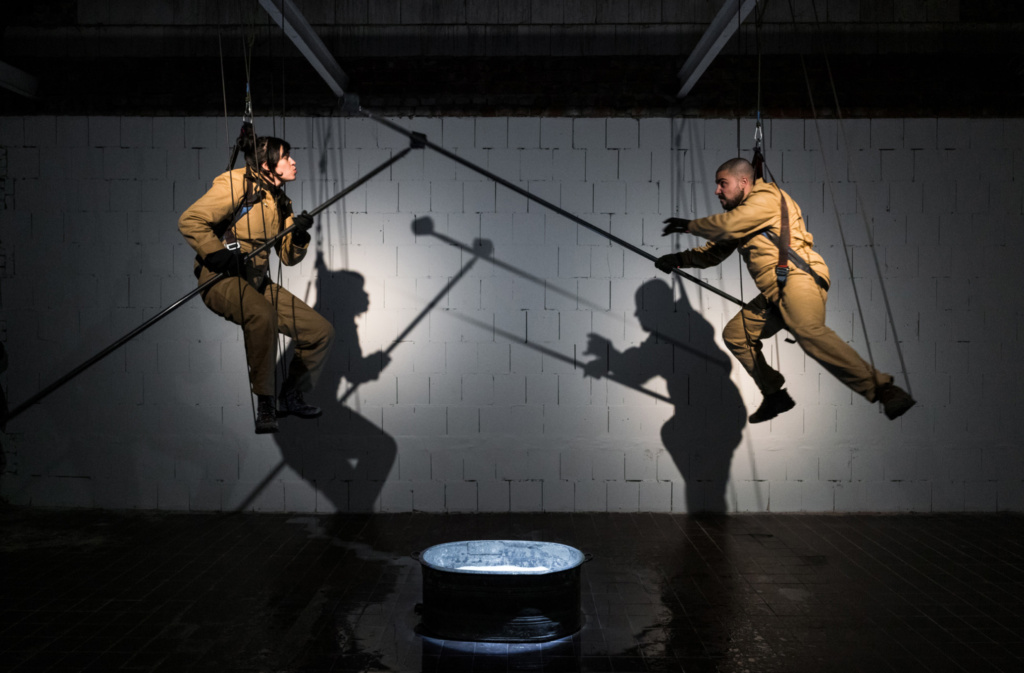 Description:
During the performance the two performers are hanging at two meters high above the ground. The performance cycle starts when one of the performers takes an oversized soup ladle with a long handle, dips it in a zinc container, filled with milk and tries to drink from the ladle. After multiple tries, he realizes that it is impossible to drink by himself. He gives a second ladle to the performer hanging in front of him, with the hope that she will help him to drink from the container and with her ladle with a long handle, they could reciprocally help each other.

After a brief observation, the second performer is not only not helping, but starts a fight so that none of them ever get to drink anything.
Click on any of the images to enlarge
Idea:
Human principle is a performative installation that portrays the circumstance when humans
decide to harm rather than to help, consciously or unconsciously. Greed and the desire of winning and crushing one's so-called enemies, is often overcome by the wish to collaborate for everybody's advantage. Even if the price of not helping each other is that nobody gets anything, the truth is that the cases in which people sabotage each other happen more often than people helping each other.
This situation is also present in allegories with a religious background in "The allegory of long spoons" which is a parable that shows the difference between heaven and hell by means of people forced to eat with long spoons.
The allegory can be summarized as follows:
In each location, the inhabitants are given access to food, but the utensils are too unwieldy to serve one- self with. In hell, the people cannot cooperate, and consequently starve. In heaven, the diners feed one another across the table and are sated."
Performers: Salmo Albatal, Cristiana Cott Negoescu
Links: