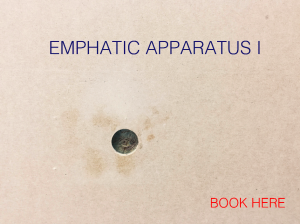 Um an der Performance teilzunehmen, müssen Sie in eine Kiste steigen. Sie werden für 10 Minuten in ihr bleiben bis sich die Tür wieder öffnet.
In order to take part in the performance, you need to enter a box. You will stay in the box, for about 10 minutes, until the door opens for you.
Wenn Sie sich unwohl fühlen und nicht in der Kiste bleiben können, dann klopfen Sie bitte auf das Holz und man wird Sie nach draußen begleiten. Einige Zuschauer können die Erfahrung als sehr intensiv empfinden, bedenken Sie jedoch, dass sie sich in einer kontrollierten und sicheren Umgebung befinden.
If, at any time, you don't feel comfortable to stay in the box anymore, please knock on the wood of the box and you will be taken outside. Some viewers may find this experience intense, yet you will be in a controlled and safe environment.
Nach Ihrem Durchgang haben Sie die Möglichkeit an einer zugewiesenen Stelle im Raum zu bleiben. Sie können solange Sie möchten im Raum bleiben. Wir bitte Sie höflich den Raum nur am Ende eines Performance-Durchgangs zu verlassen und nicht während dessen, damit die anderen Teilnehmer nicht gestört werden. Wenn Sie den Raum verlassen können Sie nur wieder in der Kiste teilnehmen und hierfür müssen Sie sich um eine neue Buchung bemühen..
After concluding your turn, you have the possibility to remain in the room in a designated area that you will be guided to. You can stay in the room, as long as you like. We kindly ask you to leave the room only at the end of a performance run and not in the middle, in order not to disturb the people that are in the boxes. Once you leave the room, you are only allowed to enter again in the box, and you will have to make a new booking for it.
4.Der Zutritt zum Raum ist ohne Buchung nicht erlaubt. Eine Buchung kann online         erfolgen. Gegebenenfalls können nicht im Voraus gebuchte Plätze vor Ort reserviert werden. Füllen Sie bitte den Fragebogen aus, den Sie vor betreten des Raums erhalten und geben Sie ihn am Eingang ab. Dies ist ein wichtiger Teil der ganzen Erfahrung.
The access in the room is only allowed with a booking. A booking can be made online or onsite. Please fill in the questionnaire that you are given before you enter the room and give it back at the entrance. This is an important part of the whole experience
Damit alle, die teilnehmen, eine umfassende Erfahrung haben, bitten wir Sie höflich mit anderen Teilnehmern keine Details zu besprechen.
In order for all the people taking part, to have a full experience, we kindly ask you to not give away details.