Home-Made
The performance and exhibition Home-made reflect on what women have to suffer when state supervision curtails a woman's right of self-determination. Inspired by the communist regime in Romania which made abortion illegal, the artist asks why a society is willing to subject women to hostilities and stigmatisation when limiting their choices to deal with unwanted pregnancies. By doing this, women are often pushed to opt for unsafe means of provoking miscarriages.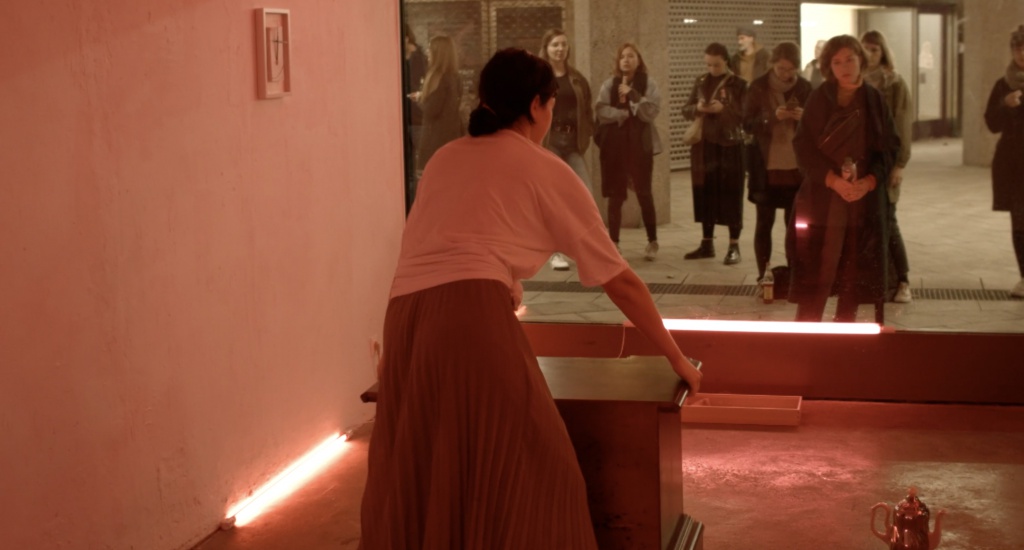 Description:
The performer re-enacts a home-made (back-alley) abortion through a method that was notorious in Romania during the communist regime: moving heavy furniture – in this case a vitrine with porcelain inside.
The performer places inside her vagina a silicone replica of an 11-week-old fetus and a bag of red paint. After one hour of effort in moving furniture, the silicone replica is pushed out of the performer's vagina – followed by the bag of red paint. She sanitizes her hands with "Mona", a popular disinfectant liquid in Romania. She then leaves the fetus on the mosaic floor of the gallery and exits. Her skirt, legs, and shoes are red of the paint.
On the walls works of art referring to different methods for back-alley abortions are displayed, like knitting needles or wire hangers. In the respective works of art, they are piercing through soft silicone. Also to be seen in the gallery: concoctions used as potions to the poured in the vagina or to be drunk to induce a miscarriage.
In a second room, the most popular anti-abortion propaganda movie from the communist era is running on a loop. English subtitles are provided, which also scroll on a cue monitor in the window of the gallery.  
Click on any of the images to enlarge
Idea:
Making abortion illegal impacts the human right to dignity and autonomy in decision-making. Social norms and climates that restrict a woman's access to essential health services create an environment in that women's lives may be harmed. In this way this work is not looking back into the past of a foreign country, it supports strengthening today's women's rights and helps us to stay alert in a social and political climate that challenges feminist achievements increasingly.
Links: